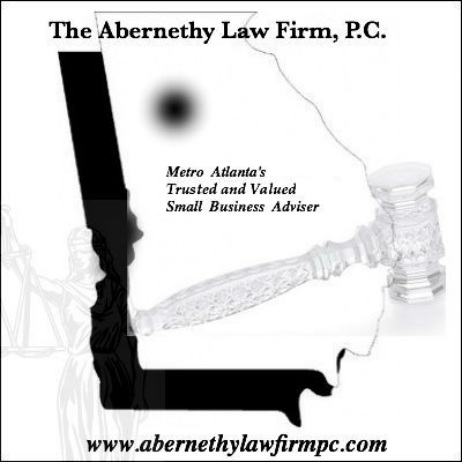 At The Abernethy Law Firm, P.C., we strive to be Metro Atlanta's most trusted and valued emerging and mid-market advisers. Whether you're a startup, growing into your industry's middle market tier, or planning for the transfer of an established, inter-generational, closely-held business, at The Abernethy Law Firm, P.C., we can cover your needs from A to Z.

We provide the following services commonly required in the context of small and closely-held businesses: 1) incorporations and organizations of LLCs, S Corporations, C Corporations (including 1202 QSB Corps), Professional Corporations, Limited Liability Partnerships, Family Limited Partnerships, and Joint Ventures; 2) comprehensive income, employment, gift & estate tax planning; 3) acquisitions and dispositions of business assets and ownership interests; 4) commercial leases, contracts, and agreements; 5) secured UCC transactions; 6) banking and finance consulting and compliance; 7) asset protection planning, including domestic assets protections trusts (DAPTs), family limited partnerships (FLPs), special needs trusts (SNTs), prenuptial agreements, bankruptcy exempt asset protection planning, and structured transactions; 8) consulting related to the formation of an IRC section 831(b) Captive Insurance Company (CIC) for comprehensive, tax-advantaged, self-funded risk management; 9) intellectual property licenses and the protection of trade secrets, including nondisclosure and noncompetition agreements (NDAs/NCAs) ("light IP"); and 10) comprehensive and coordinated estate & business succession planning to smoothly and effectively transfer all assets to the next generation in the most tax-advantaged manner that allows the business to continue uninterrupted. In addition to these services, we have established relationships with a fantastic referral network of CPAs, CFPs, payroll administrators, insurance agents, valuation experts, lenders, licensing & local government attorneys, patent & trademark attorneys, employment attorneys, commercial litigators, debt collection agencies, and other professionals necessary to the long-term health and success of your business.

At The Abernethy Law Firm, P.C. we aim to provide client-centered services that are creatively and innovatively tailored to fit your specific needs. We will work with you to develop a reasonable and cost-effective plan to reach your goals. We can even arrange flexible fee arrangements, in many cases, to meet your budgetary needs. It would be our honor to serve you, so contact us today!
---